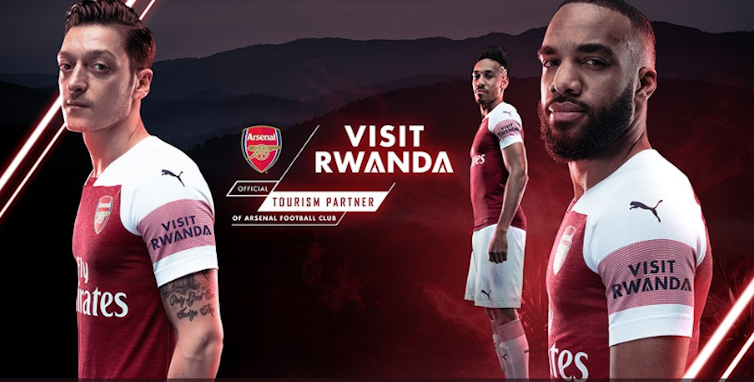 By Filip Reyntjens, University of Antwerp
Rwanda keeps surprising. Recently the Rwandan Development Board signed a sleeve sponsoring deal with London Premier League club, Arsenal. Over a three-year period, the 200 sq centimetre ad "Visit Rwanda" will cost the country USD$39 million.
President Paul Kagame is known to be a committed Arsenal fan. Recently, he even tweeted that the club needed a new coach after Arsenal's once invincible league and cup winning manager Arsene Wenger's poor record over the past number of seasons. One may suppose that it is a coincidence that the deal was struck just after Wenger's retirement at the end of the 2017/18 season.
Rwanda is the 19th poorest country in the world with a per capita income of around USD$700. Arsenal is one of the richest football clubs in the world. It's not surprising therefore that the nearly USD$40 million has upset quite a few people.
Dutch lawmakers, including some from the governing coalition, immediately reacted angrily to the news that such a poor country receiving a great deal of aid from The Netherlands would sponsor one of the world's richest soccer clubs. Similar reactions could be heard in the UK, Rwanda's second largest bilateral donor. An MP described the deal as "an own goal for foreign aid".
In addition, those concerned with democracy and human rights think the deal is sending the wrong message about a country that has a strong authoritarian streak running through it.
---

Read more:
Why Rwanda's development model wouldn't work elsewhere in Africa

---
The question is: Is Kagame entering into a deal with his favourite club to promote tourism or has he done it to enhance his image and shield him from criticism? He appears to have made the decision off his own bat: the contract appears not to have been discussed in the cabinet and the money does not figure in the budget approved by parliament.
Rwanda's rationale
For the Rwandan government, the deal is part of a broader strategy to develop tourism, which in 2017 accounted for about 12.7% of GDP and USD$1 billion of revenue. The country sees upmarket leisure and convention tourism as an important growth sector. It has a lot going for it: lush green landscapes, the mountain gorillas of the Virunga volcanos, the Akagera wildlife park, the tropical Nyungwe forest, idyllic Lake Kivu, and even genocide memorials – all compressed into a space of just 26,000 sq kms.
This strategy is integrated and makes sense on paper. The state has invested heavily in its national airline RwandAir and built the Kigali Convention Centre and high-end hotels. And the development of the new Bugesera International Airport, designed to become a major regional hub, is underway.
But there are doubts about the profitability of these ventures. For instance, RwandAir has yet to break even 14 years after it was launched. The government keeps it afloat with an annual grant of USD$50 million just for operations.
Investments in a constantly expanding fleet to cater for an ever growing network of continental and intercontinental destinations require considerable borrowing at a high cost. The fiscal risk involved in the government's strategy is high, and economists wonder how sustainable these outlays will be in the medium term.
Calculations like these are for the Rwandan government to consider. But has Arsenal considered the signal it's giving in light of Kagame's human rights and democracy records?
Risks for Arsenal
Canadian investigative journalist Judi Rever recently recorded in a book, "In Praise of Blood: The Crimes of the Rwandan Patriotic Front", that the Rwandan regime has massacred tens if not hundreds of thousands of innocent civilians, particularly in the 1990s.
And last year Human Rights Watch issued worrying reports about human rights abuses. These included the rounding up and arbitrary detention of poor people in "transit centres" across the country, widespread repression in land cases, extrajudicial killings and unlawful detention and torture in military facilities.
In October 2017 the United Nations subcommittee on Prevention of Torture suspended its visit to Rwanda because of "a series of obstructions imposed by the authorities". It was only the third time in 10 years the subcommittee has done this.
On top of this there has been widespread analysis and commentary on the state of democracy in Rwanda. The country is a de facto one-party state with no meaningful political opposition, no press freedom and no independent civil society.
Kagame's grip on power is absolute and in August last year he was reelected with over 98% of the vote. A referendum on a constitutional amendment in 2015 gave him the right to stay office until 2034.
Realising that battles are fought in the media as much, if not more than on the ground, Kagame's party, the Rwandan Patriotic Front (RPF) has developed a formidable information and communication strategy stretching back to the civil war it launched in October 1990.
Kagame once said:
We used communication and information warfare better than anyone. We have found a new way of doing things.
This has involved paying those who can help promote the right image, including public relations firms.
Political ethics and sport
True, political ethics and sports don't match well. Until recently FC Barcelona agreed to a Qatar sponsorship that saw the country featured on the team's jerseys. Qatar has a very chequered political record. Due to host the 2022 World Cup, it's known for its notorious human rights abuse, especially when it comes to the rights of migrant workers and women.
Another example is Atlético Madrid which was controversially sponsored by Azerbaijan, where the Euro 2020 football tournament will take place. This east European country has been flagged by Amnesty International for its "crackdown on the right to freedom of expression, particularly following revelations of large-scale political corruption".
Not that it should make any difference, but these two countries are very rich, while Rwanda is very poor.

And I nearly forgot: Many Arsenal fans were opposed to the deal, not because of Rwanda's human rights and democracy records, but because they didn't like the design of the sleeve print.
___________________________________________________________
Filip Reyntjens, Professor of Law and Politics, Institute of Development Policy and Management (IOB), University of Antwerp
This article was originally published on The Conversation. Read the original article.